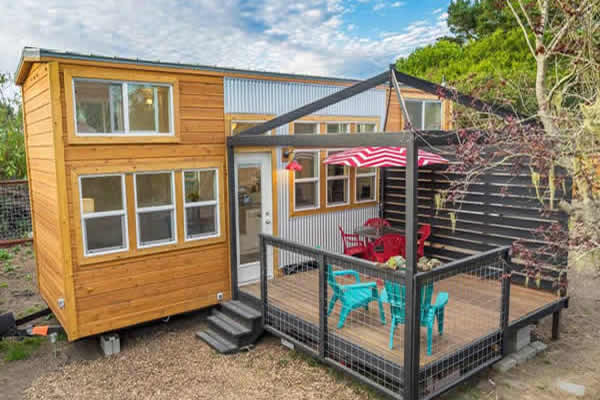 Grand Teton
28' foot home with side entry is one of our larger homes, includes a main floor separate living room, extensive kitchen cabinetry and counter space. Dual large lofted bedrooms offer plenty of sleeping or lounging space, stair option available. Residential sized bathroom with 48″ shower (60″ shower or tub shower available) includes a large linen cabinet, toilet and sink with base cabinet.
Castle Peak
24' foot home, Side living room/kitchen entry, Master king loft and twin loft, main floor Den/media room/bedroom, residential sized full bath with 48″ shower, toilet, full sized sink with base cabinet and linen cabinet. Large center kitchen with substantial storage easily accepts washer/dryer, apartment sized range and refrigerator. Optional staircase. Optional 25′ version boasts a 9′ Master loft and an 8′ den.
Mt. Everest
22' foot home includes a 3′ standard cedar porch with end entry, living room withe standard storage cabinet, 8′ King loft and 3′ storage loft above entry. Over sized kitchen counters. Bathroom with 32″ shower and toilet. Optional staircase, washer/dryer, 4 burner range.
Lassen Peak
24' foot home, Side entry, 2 lofted bedrooms, and spacious living room. Beautiful "U" shape kitchen with plenty of storage, accepts washer/dryer and apartment sized range and refrigerator. Full bathroom with residential sized lavvy cabinet with storage, vitreous top mount china sink full linen cabinet and 48" shower. Standard ladder access to lofts or Optional plat formed storage staircase to master loft.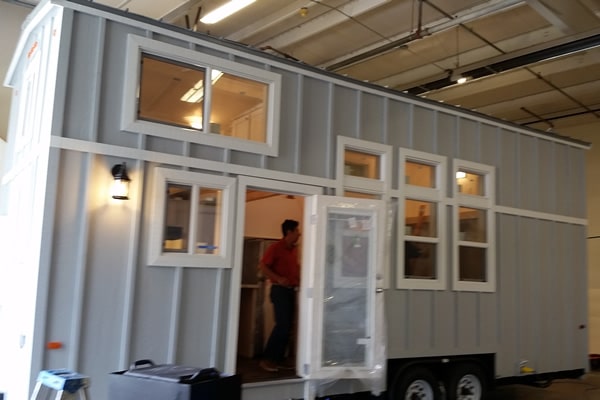 Mt. Kilimanjaro
24' foot home, also available as a 25'. Side living room entry, Super-sized master loft with unique below loft ladder access or optional staircase. Plan includes a cozy living room a center kitchen with snack bar. Accepts washer/dryer combo, apartment size range and refrigerator. Full bathroom with residential sink and 36" shower and storage area.
Your Own Tiny House. At A Price You Can Afford.
Tiny Mountain Houses is a Pacific Northwest based provider of quality custom built RVs. All our RV's are built to the NFPA 1192 travel trailer code. Our homes are available in many styles and sizes.
Whether your Tiny Home RV is for the weekend or a nightly rental or maybe your dream is traveling the country. Tiny Mountain Houses offers custom built or off the shelf designs to meet your needs.

TMH Living
A Tiny Mountain House RV results in many benefits such as less clutter, more free time, and a simpler, less demanding lifestyle. Wouldn't you rather spend your extra time, money, and resources on the things that matter the most to you?

TMH Freedom
Ask yourself, "how much house do I really need to be happy and enjoy the most freedom in my life" Tiny house RVs are about having fun and enjoying your life now, tiny home living gives their owners freedom.
Latest In Tiny Mountain Houses